Controversial Nike ZoomX Vaporfly to Be Permitted at Tokyo Olympics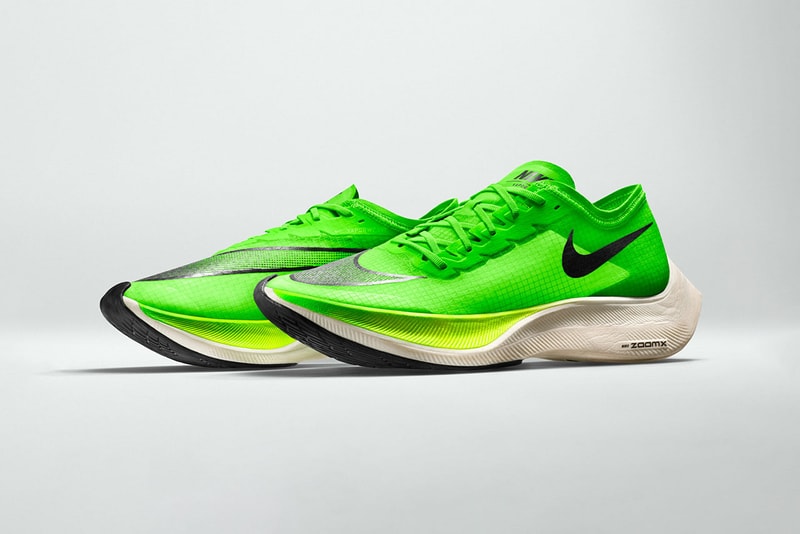 Following a length investigation, World Athletics — the governing body for global track and field events also known as IAAF — ended January with its official ruling on Nike's controversial ZoomX Vaporfly sneaker. Criticized for perceived performance enhancement, the shoe will be allowed at the 2020 Tokyo Olympics.
Nike's current-generation Vaporfly sneakers were introduced in 2019 after the sports giant's elite runners spent months testing footwear technology. However, two of those runners — Kenyan athletes Eliud Kipchoge and Brigid Kosgei — became partially responsible for the scrutiny levied at the Vaporfly once they smashed two consecutive records in October of that year. On October 12, Kipchoge completed a challenge to run the length of a marathon in just under two hours, while Kosgei knocked 81 seconds off of the women's world record only one day later.
These high-profile events drew the attention of the IAAF, which took special notice of the Nike sneakers worn by each athlete. For his unofficial run — the challenge was not IAAF-certified — Kipchoge wore a prototype Nike sneaker with an extra-thick sole unit, while Kosgei ran 2019's Chicago Marathon in a pair of Vaporfly Next%.
IAAF's judgment doesn't specifically target the Vaporfly sneakers, instead explaining that the rule modifications are intended "to provide greater clarity to athletes and shoe manufacturers around the world and to protect the integrity of the sport" at the highest level of competition. Beginning April 30, these new regulations will go into effect, barring elite runners from wearing sneakers that haven't been available for purchase on the open market for at least four months. This includes prototype sneakers, naturally, and IAAF's rules go into further detail by specifying that qualifying shoes must also have a sole that measures under 40 millimeters (approximately 1.5 inches) and that the sole may not contain more than one springlike "shank."
Inside of Nike's Vaporfly sneaker outsole is a single carbon fiber plate, or shank, that ensures extra propulsion. Thus, under the tenets of the IAAF's new standard, Kosgei's preferred Vaporfly Next% will remain legal, while shoes like Kipchoge's prototype runner will no longer be allowed.
Though running sneakers are perhaps Nike's best known product, the footwear behemoth has plenty of other cutting edge athletic shoes in the works, including the new Vapor Edge football cleats.
Click here to view full gallery at HYPEBEAST