The Best Social Media Moments of the Decade
Splash News; Getty Images; Instagram; E! Illustration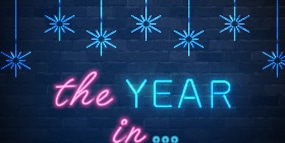 Indulge us in a walk down memory lane. 
It's 10 years ago. Justin Bieber is a moppet-haired Canadian creeping onto the Billboard charts with "One Time" and "One Less Lonely Girl" (not a soul, outside of his team, really, has heard him sing a note of "Baby"). Meghan Markle is doing her best to piece together a career with television guest spots and a gig as a briefcase girl on Deal or No Deal. Her future husband, Prince Harry, still living that bachelor life, isn't aware that the woman who will become his whole world even exists. 
Instagram hasn't been invented yet, Ashton Kutcher has just bested Britney Spears and CNN in the race to gain more than one million followers on Twitter and no one had even heard of the Ice Bucket Challenge. 
You could argue it was a simpler time and more than a few celebrities have contended just that in citing their reasons for pulling back from social media and the endless cycle of commentary it creates. 
But also, we didn't know what Gangnam Style was and, save for super-in-the-know techies, people weren't talking about GIFs much less peppering their every conversation with them. So perhaps let's call it a draw? 
As we approach, not just a new year, but a fresh, shiny decade all full of hope and promise, let's celebrate all the Internet has gifted us the past 10 years and feel grateful for all of the content we watched, retweeted, double tapped and simply liked.
Well, let's be glad for that, and the fact that we no longer have to figure out what to call this decade. We're coming for you, twenty-twenties! 
SplashNews.com
Sad Keanu Spawns Countless Memes

Do you think 2010 Keanu Reeves would appear quite so glum if he knew that in nine years' time he'd be crowned the Internet's boyfriend? Because he wasn't super thrilled with being the subject of the year's most prevalent meme. "Someone just decided to take this paparazzo picture and create this event on the Internet of sad Keanu," he explained on BBC News. "Do I wish that I didn't get my picture taken while I was eating a sandwich on the streets of New York? Yeah."
screengrab
Rebecca Black Pays Homage to the Week's Best Day

When the then-13-year-old agreed to record "Friday"—a song penned by the team at the now-defunct ARK Music Factory—and shoot the decidedly low-budget music video (using her dad's leaf blowers as wind machines and a green screen cobbled together with supplies from Staples) back in 2011, she never imagined the pandemonium that would follow. "I thought, 'This is just something that 30 people are going to see,'" she recently told Yahoo Entertainment/SiriusXM Volume of the widely panned track that boasted such declarations as, "Tomorrow is Saturday and Sunday comes afterwards." Some 127 million YouTube views later (and sadly more than a few death threats from those that take pop culture events far too seriously), she realizes how naive she was. But, hey, at least we all know you gotta get down on Friday.
Mark Cuthbert/UK Press via Getty Images
A Tiny Bridesmaid Steals the Show

It was supposed to be Prince William and Kate Middleton's big moment. Having officially wed in front of a crowd of 1,900 (and upwards of a billion TV viewers) at Westminster Abbey, a place where PDAs are decidedly frowned upon, the royals returned to the Buckingham Palace balcony for their "you may now kiss the bride" moment. But it was pint-sized attendant, Grace Van Cutsem—attempting to protect her tiny eardrums—who stole the show on that April 2011 day. The 3-year-old's dour visage became the event's runaway meme. 
Stars Get Horizontal

Remember when pretty much every celebrity (see Justin Bieber on a boat, Diplo atop an elephant and Rosario Dawson on The Tonight Show) was planking and it had nothing to do with getting toned abs? Yeah, 2011 was a strange time.
Everyone Goes Gangnam Style

"Eh, sexy lady!" For five long years, South Korean artist Psy held the record for YouTube's most-watched video, thanks to his impossibly catchy 2012 track "Gangnam Style" and the more than 2 billion wannabe dancers that attempted to recreate his unique moves. (The video sharing service even had to alter the maximum view limit to track all of the clicks.) But midway through 2017, the campy hit was overtaken by "See You Again", a single Wiz Khalifa and Charlie Puth penned for Furious 7. 
Scott Gries/Invision/AP
Miley's Twerking Gets People Taling

The pop star may not have collected any Moonmen during MTV's 2013 Video Music Awards, but Miley Cyrus did capture the performance of the night—perhaps the year—when she took the stage with Robin Thicke. Because love or hate her twerking dance moves, her latex costume or her foam finger finesse, people couldn't stop talking about them with East Coast Twitter traffic topping off at 306,100 tweets per minute.
SBS Discovery © 2013
Ylvis Gets in Touch With Their Animal Instincts

For a stretch in 2013, Norwegian comedy duo Ylvis had nearly 300 million YouTube viewers (easily the biggest trending video that year) asking, "What Does the Fox Say?" TBH, we're still not entirely sure. But we do know that "Dog goes 'woof', cat goes 'meow, bird goes 'tweet' and mouse goes 'squeak.'"
Twitter
Ellen Snaps a Selfie

"If only Bradley's arm was longer," 2014's Oscar host Ellen DeGeneres jokingly lamented of Bradley Cooper's mid-ceremony selfie. Still, with her Samsung capturing the likes of Jennifer Lawrence, Meryl Streep, Jared Leto, Brad Pitt, Angelina Jolie and Lupita Nyong'o, she felt comfortable dubbing the pic, the "best photo ever." The more than 3 million fans who retweeted the snapshot happened to agree. 
Michael Rozman/Warner Bros
Stars Get Wet to Do Good

After golfer Greg Norman nominated Matt Lauer to participate in the Ice Bucket Challenge on Today in July 2014, the movement went viral with more than 17 people (including Chris Pratt, Oprah Winfrey and Kim Kardashian on The Ellen DeGeneres Show) dumping a gallon of frigid water onto their head in the name of ALS awareness. Sadly, the challenge's creator, Pete Frates, ended his battle with the progressive neurodegenerative disease Dec. 9 but his legend—and the more than $115 million raised for research through donations to the ALS Association—lives on. 
Tumblr
The Dress Debate Gets Fierce

Some insisted it was a white frock with gold lace trim; others were certain it was black and blue. (For the record, camp number two proved to be correct.) Either way, for a period in February 2015, the Internet couldn't stop fighting over "the dress"—the entirely garden variety body-con number first posted to Tumblr that highlighted the differences in how our brains process color. 
Kevin Mazur/WireImage
Left Shark Busts a Move

Some 28 million tweets were penned during Super Bowl XLIX in 2015. And with all due respect to New England Patriots cornerback Malcolm Butler's game-winning interception, it seemed as if most were about Katy Perry's somewhat inept finned back-up dancer. A year after he hung up his costume, Bryan Gaw, a longtime Perry collaborator turned hairstylist told NPR his act had been deliberate. "So there's a set choreography. There's also what's called free-style choreography, or, like, you get to move around or play your character as a dancer," he said of the halftime performance. "I'm in a 7-foot blue shark costume. There's no cool in that. So what's the other option? Well, I'm gonna play a different character."
Getty Images; AKM-GSI
Bieber Blows Up

Way back in the year 2016, a fed-up Justin Bieber threatened to make his Instagram private if his Jelena-shipping followers didn't stop giving then-girlfriend Sofia Richie a hard time. Ex Selena Gomez weighed in ("If you can't handle the hate, then stop posting pictures of your girlfriend lol—It should be special between you two only," she commented) and Bieber followed through, wiping away his social media presence. More than three years later, his Insta is back, more or less as a fan account of wife Hailey Bieber, Richie is happily ensconced with longtime boyfriend Scott Disick and Gomez has completely moved on, learning she had to "lose you to love me." So all's well that ends well. 
Instagram
Beyoncé Breaks the Internet

It's hard to top a mid-performance pregnancy announcement at the MTV VMAs, but Beyoncé did just that in Feburary 2017 when she posted an entirely extra Instagram of herself cradling her burgeoning bump in front of a miniature flower wall. "We have been blessed two times over," she wrote of the babies who would become her and Jay Z's twins Rumi and Sir. "We are incredibly grateful that our family will be growing by two, and we thank you for your well wishes." And of course more than 11.2 million fans double-tapped that, making it the year's most liked image. 
YouTube
Taylor Takes on a New Reputation

Reclaiming her narrative: On Aug. 21, 2017, Taylor Swift wiped her Twitter and Instagram clean, leaving just one foreboding GIF of a snake. As we all now know, the old Taylor couldn't come to the phone because she was too busy planning the release of reputation. Days later, her first single off her sixth studio album, "Look What You Made Me Do" smashed Adele's record for first-day views of a music video on YouTube. The disc itself would become the year's best-seller within four days of its release. 
Instagram
Selena Gets a Little Help From a Friend

Besting Queen Bey is quite the task, but Gomez nearly did just that when she revealed in September 2017 that she had undergone a life-saving operation earlier that summer. Suffering from complications related to her Lupus, she received a kidney from best friend Francia Raisa. "She gave me the ultimate gift and sacrifice by donating her kidney to me," she shared with her 164 million followers, nearly 11 million of which "liked" the image. "I love you so much sis."
Netflix
Kylie Drops a Bombshell

Sure, the rumors had been bandied about for months, but the collective Internet was still stunned when Kylie Jenner revealed a tiny Stormi had blown into her life in February 2018. It wasn't so much that she had given birth, it was that the beauty mogul had been quietly filming her ultrasounds, nursery planning and baby shower for months to cut an 11-minute video tribute to her new little girl. The montage captivated some 24 million YouTube viewers in the first 24 hours (to date, almost 88 million have sniffled their way through the clip), nearly overshadowing the day's other major event: Super Bowl LII. 
screengrab
Everyone Gets in Their Feelings

It's hard to say who exactly emerged victorious from the 2018 "In My Feelings" challenge, inspired by Drake's song of the same name ("Kiki, do you love me? Are you riding?") and the initial video posted by Internet comedian Shiggy. But Ciara and Russell Wilson's take on the beaches of Cape Town and Will Smith's climb to the top of a bridge in Budapest had to be, well, up there. Not winning: those that decided jumping out of a moving vehicle in the name of more Instagram likes was a worthy cause. 
Shutterstock
A Prince Meets His Prince

A little more than a month after Prince Harry and Meghan Markle birthed their @SussexRoyal Instagram account, they used the platform to announce the May 6, 2019 arrival of Archie Harrison Mountbatten-Windsor. "The Duchess and baby are both healthy and well, and the couple thank members of the public for their shared excitement and support during this very special time in their lives," the post read. Though precious few details were offered outside the birth weight (seven pounds, three ounces) and the fact that "It's a boy!", the entry garnered the approval of nearly a third of the duo's 9.9 million followers.
Instagram
Jennifer Aniston Nearly Destroys the Gram

It's not that common, it doesn't happen to ever user and it is a big deal. When the former Friends star finally joined Instagram after years of abstaining (and doing careful preparatory research), she nearly crashed the app as fans rushed to follow her account (to date, she has more than 22 million) and double-tap her opening salvo: a never-before-seen picture of her hanging with former costars Courteney Cox, Lisa Kudrow, Matt LeBlanc, Matthew Perry and David Schwimmer. 
Mariah Carey instagram
Stars Get Reflective

Everyone's doing it. Because what better way to cap off the decade than with Facebook's 10 Year Challenge, in which users were instructed to post their first profile picture (or one from a decade ago) and their current one? Reese Witherspoon, Jennifer Lopez, Gabrielle Union and countless others joined in, but Mariah Carey may just have them all beat. The perennially ageless musician posted two similar side-by-side photos taken, as she put it, "at some point prior to today", informing her nearly nine million Instagram followers, "Time is not something I acknowledge." Unclear where she stands on new decades. 
var fbstarttime = new Date(); !function(f,b,e,v,n,t,s) { if (f.fbq) return; n = f.fbq = function() { n.callMethod? n.callMethod.apply(n,arguments):n.queue.push(arguments) }; if (!f._fbq) f._fbq = n; n.push = n; n.loaded =! 0; n.version = '2.0'; n.queue = []; t = b.createElement(e); t.async =! 0; t.src = v; s = b.getElementsByTagName(e)[0]; s.parentNode.insertBefore(t, s); }(window, document, 'script', 'https://connect.facebook.net/en_US/fbevents.js');
fbq('init', '1611373942516879'); fbq('track', 'PageView');
var fbendtime = new Date();



Source link